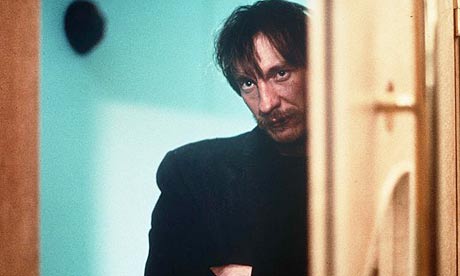 Mike Leigh y David Thewlis rememoran el rodaje de "Naked", una de las mejores películas británicas de los últimos años (en mi modesta opinión).
Y otra entrevista con Mike Leigh.
............
Mel Brooks habla sobre su película "The Producers".
............
Werner Herzog: What I do is for spectators. Whether Philippe's walk between the Twin Towers was witnessed by anyone down in the street really didn't matter. Philippe once secretly put a cable across a 2,400-foot ravine and walked across it and danced on the rope. Only a farmer who was driving his cattle at sunrise realized that someone was there. He rushed into the village to wake a policeman. And when they came back on a motorcycle, there was no Philippe, there was no wire left.

Philippe Petit: But the cows remember.
Y todavía más: un documental de la BBC sobre Herzog en youtube.
............
Entrevista a Ludivine Sagnier.
............
Violencia sexual en el cine.
............
Una lista de apariciones cortas pero imborrables en películas.
............
Esto es homenajear una película.
............
The Big Lebowski en una sola imagen.
............
Cortos de animación: